About Us
Community Highlights | PTTV

Founded in 1975, National BDPA (NBDPA) has partnered with industry and academia to support technical workforce requirements. NBDPA's Washington, D.C. Chapter was founded in 1978 by Norman Mays. It was the third NBDPA Chapter to receive its charter to help locally bridge digital divides and broaden opportunities for underserved communities in IT and related technical fields of interest.
Best Buy named Chapter Youth Programs Sponsor of the Year for 2013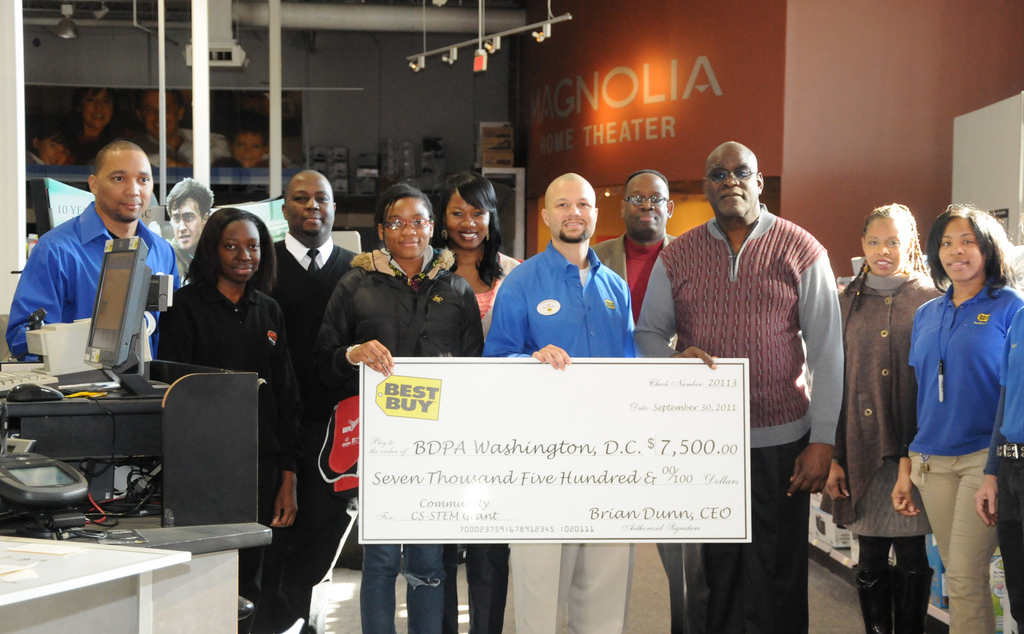 Above, BDPA-DC Members and Student Members at Best Buy in Bowie, Maryland. Host Chapter Industry Days and Advance Program Briefing for Interns (APBi's) mark the kick-off for next year's Regional NBDPA Technology Conference co-hosted by BDPA's Washington, D.C. Chapter and Bowie State University.

Select here to read more.
Our Next "BDPA" Thrust
Big Data & Predictive Analytics
Interns wanted for 2014!
Washington, D.C. Team Places 4th at Nationals!
(L-R) Airrund Woolen, Michael Wood, Nnedimma Ugochukwu, Beleicia Bullock, Alex Li, Ms. Michelle Cooke (National HSCC Coordinator) and Mr. Ron Bell (National HSCC Chief Judge) at National BDPA's 35th Annual Awards Gala. NBDPA hosted National High School Computer Competition (HSCC) scholarship rounds during the National BDPA Technology Conference. BDPA's Southern Minnesota HSCC Team recaptured their seventh out of the last nine HSCC titles. Host Chapter's team from the "DMV" placed 4th out of the top 17 qualifying HSCC teams in the nation.

Select here to discover more from this year's success stories!
Keith Scott named 2013 Member of the Year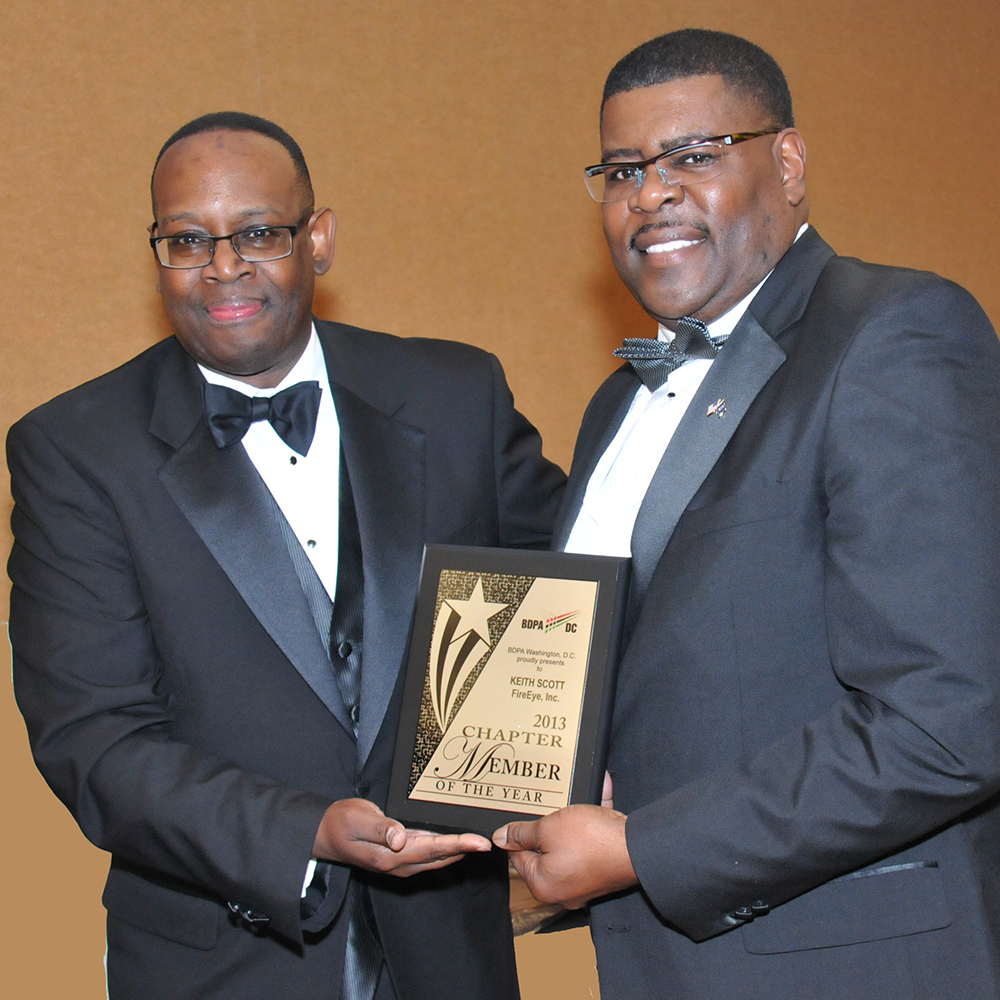 Keith Scott (above right) recieves top honors from chapter president Perry Carter. Mr. Scott is a Baltimore, Maryland native currently serving as the Federal Account Executive at FireEye, Inc. for Special Programs. Mr. Scott is an experienced technology professional with proven success in consultative and solution sales to Defense and Fortune 500 accounts with CA, Concord Communications, Getronics, and J.G. Van Dyke & Associates. Mr. Scott has attended and actively participated in several outreach events with BDPA Chapters and Chapter Interest Groups (CIGs) within our region from Annapolis, Baltimore, Central Maryland, District of Columbia, and Northern Virginia to address unique opportunities and unprecedented challenges in cybersecurity for IT and STEM professionals.

Select here to view more photos from this year's 35th Anniversary Gala.
TECH-Inclusion Regional Fundraisers for FY14
National BDPA's Washington, D.C. Chapter (BDPA-DC) hosted a fundraiser and 35th Anniversary Gala at the Washington Navy Yard. Mr. Emmit J. McHenry (above) received the Chapter's Lifetime Achievement Award. Mr. Terry Halvorsen, CIO for the Department of the Navy, provided the Industry's Keynote address for the Chapter's 35th Anniversary.

In 2013, BDPA-DC student members received new notebook PCs, won scholarships, and received new internships valued over $17,500 from HP, Oracle, SiriusXM, BETF, and BDPA-DC with Chapter TECH-Inclusion Program support from Bowie State University and the Best Buy Children's Foundation. Northrop Grumman, Ross Technologies, Inc. (RTGX), and industry's HBCU/MI Project Office (HPO), were Diamond Sponsors for the 35th Anniversary BDPA-DC Awards Gala. The digital photo gallery is available via Facebook and Pinterest boards. Select here to read more or view this year's awardees.

BDPA-DC will once again co-host NBDPA's 40th Anniversary and 37th National BDPA Technology Conference in August of 2015. Select here to read more.
BDPA's Tablets for Teens
New Programs for FY14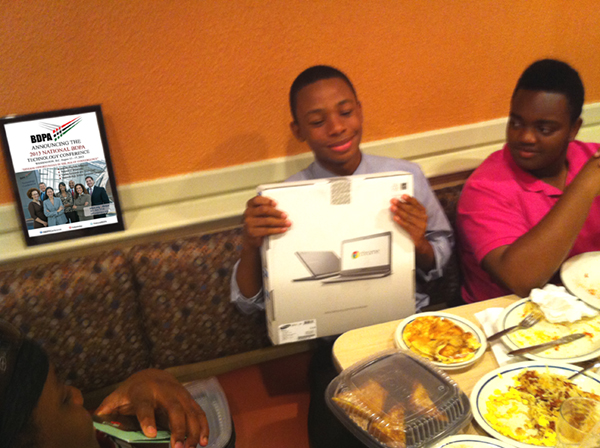 Anthony Lawson (above, left), one of this year's featured IT Showcase (ITSC) presenters, won a Google Chromebook door prize from his local BDPA Chapter at IHOP this summer after attending Father's Day Weekend workshops and the Chapter's annual Advance Program Briefing for Interns (APBi) co-hosted by regional BDPA Chapters and Bowie State University.
Local BDPA HSCC Teammates Demo Apps During Awards Gala
Washington--Every January, qualified BDPA Student Members in the Washington, D.C. area are selected to train and compete for local, regional and National High School Computer Competition (HSCC) teams. Discover more...

---
← Finalists Present Apps to DONCIO

photo by BDPA-DC | bdpatoday © 2013
(L-R) BDPA HSCC Student Members Beleicia Bullock, 2013 HSCC Co-Captain; Michael Wood; Mr. Lou Shack, BDPA-DC HSCC Program Director; Jonathan Legrant and Jerod Neal prepare apps for presentations. Seated (L-R) Mr. Keith Scott, FireEye, BDPA-DC 2013 Member of the Year and Mr. Terry Halvorsen, Navy CIO and 2013 Industry Keynote Presenter look on.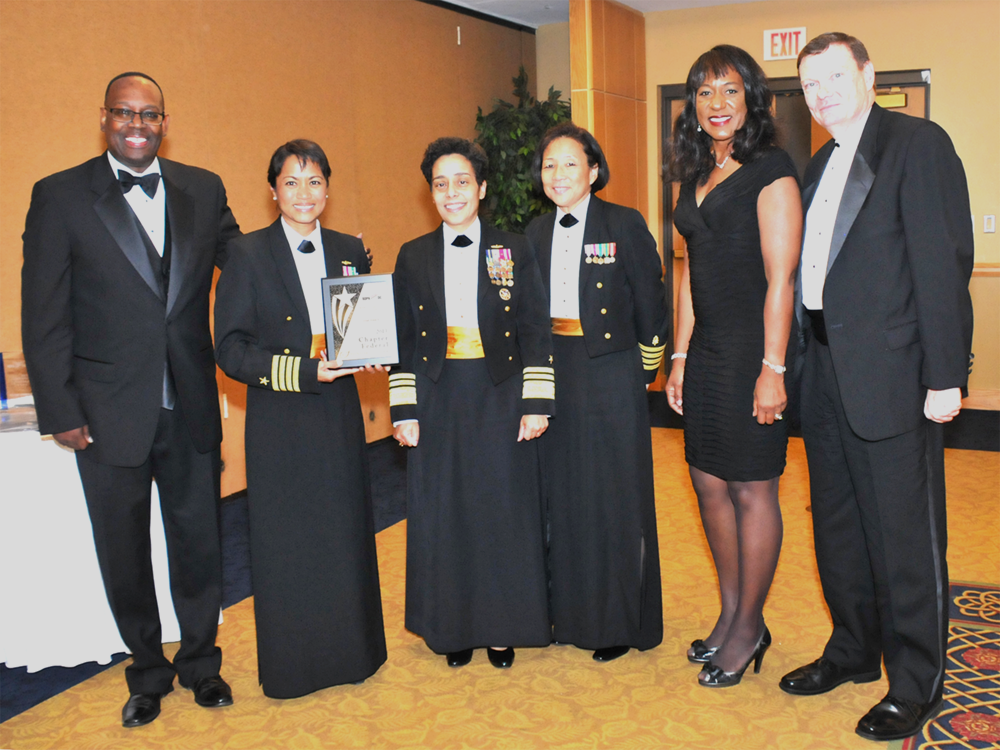 The U.S. Navy, NBDPA's Silver Sponsor, Wins Chapter Honors
Washington--National BDPA's Washington, D.C. Chapter (BDPA-DC) honored several sponsors and supporters during the chapter's annual awards gala and 35th Anniversary Celebration recently held at the Washington Navy Yard. The United States Navy is BDPA-DC's 2013 Federal Sponsor of the Year. Discover more...

---
← National BDPA Silver Sponsor: U.S. Navy

photo by Catherine Williamson | bdpatoday © 2013
Pictured (L-R) during annual Community Award ceremonies are Mr. Perry Carter, BDPA-DC; Captain Lourdes Neilan, USN; Vice Admiral Michelle Howard, USN; Captain Cynthia Macri, USN; Ms. Shirley Copeland, N134; and Mr. Terry Halvorsen, DONCIO.

BDPA-DC and BDPA NoVA to Host Mixers at The Microsoft Store
Pentagon City--National BDPA's Washington DC Chapter (BDPA-DC) and Northern Virginia Chapter (BDPA NoVA) will meet monthly every fourth Thursday except during the weeks of Thanksgiving and Christmas.
Mixers and workshops will be held at the Fashion Centre in Pentagon City, Arlington, Virginia. BDPA Members may check local or regional BDPA calendars for upcoming events, dates, times, and topics.
Next Mixer | BDPA-DC's XBOX One Launch Event! - 10:00 PM EST, Thursday evening NOV 21st.
---
← Good Code. Good Friends. Good Food.
(Left) BDPA Members in the Washington, D.C. area recently attended a monthly mixer for an Introduction to Windows 8 workshop co-hosted by BDPA and Microsoft. Discover more...

photo | bdpatoday © 2013